Location of LAX car rentals in terminal
The LAX is a rather large establishment that is configured in a very specific way so as to allow maximum efficiency without overcrowding and overwhelming the passengers and employees together. The structure also allows everything to be well organized and within reach no matter where you are at the airport.
This organization is necessary, to say the least, due to the sheer number of visitors that are greeted here yearly. In fact, the number of visitors can reach up to 88 million per year! This makes the LAX one of the busiest airports in the whole world.
When it comes to rental agencies, there is no exception there. And to make them all easier to find and to get to, they have all been designated to be at one specific place. This makes it easier for you, the customer, to not only get to the companies, but to also browse your options.
The location is Lot C, and regardless of where you are in the airport, you can get there using one of the inter-terminal transportation shuttles. These shuttles are completely free and can get you where you want to be within only a matter of minutes.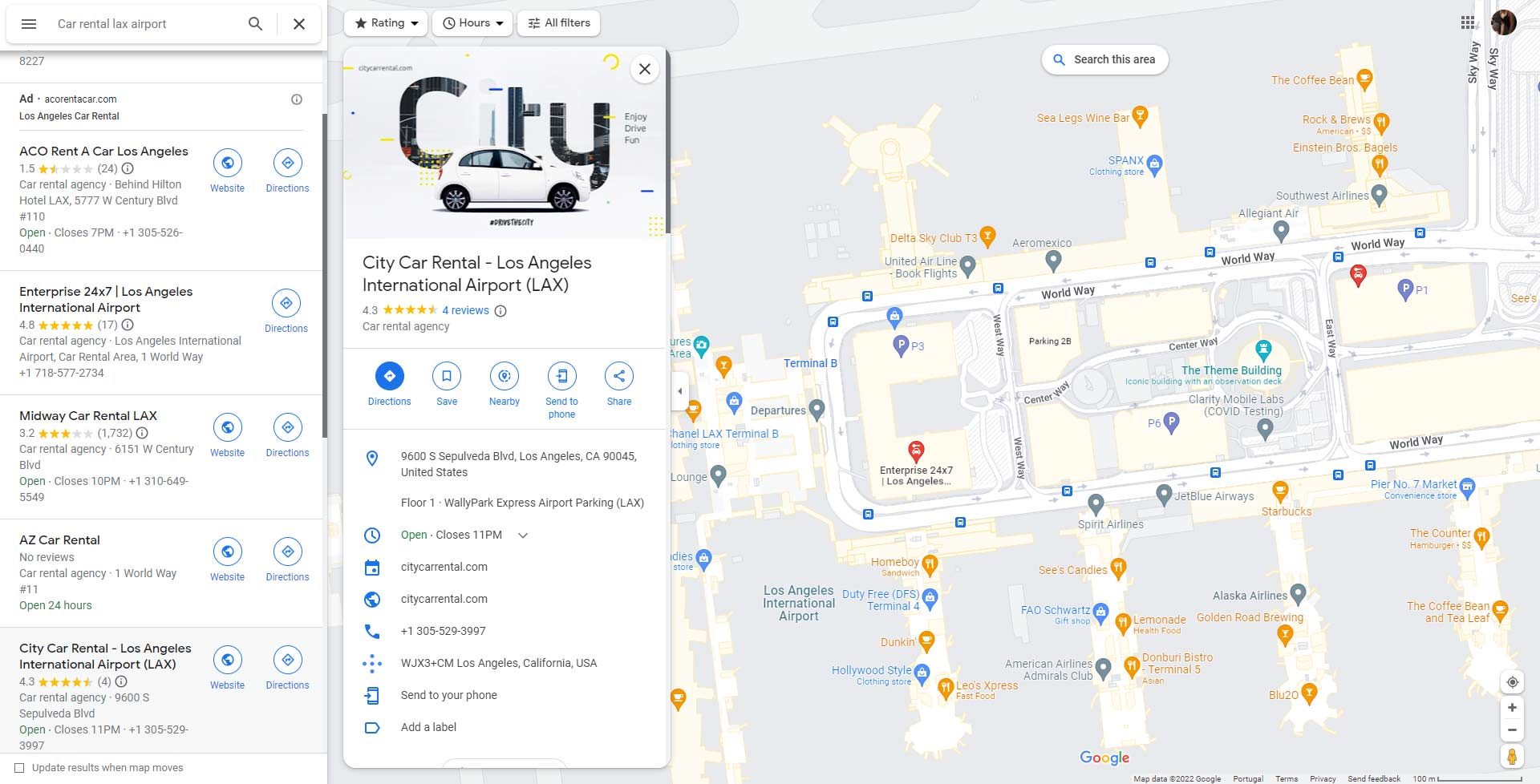 Best LAX car rental agencies
There are more than forty agencies on the premises of the airport for you to choose from. The following is a list of just a handful of them, so you can get an idea of what to expect:
Alamo – +1 800 462 5266 – www.alamo.com
Avis – +1 310 646 5600 – www.avis.com
Budget – +1 310 642 4500 – www.budget.com
Dollar – +1 800 800 4000 – www.budget.com
Fox – +1 800 225 4369 – www.foxrentacar.com
Hertz – +1 800 654 3131 – www.hertz.com
National – +1 800 462 5266 – www.nationalcar.com
Thrifty – +1 310 846 2301 – www.thrifty.com
The email address and number of each agency was mentioned to make it easier for you to access the services that these companies offer. Browsing your options ahead of time gives you more time to make a better choice.
Car Rent in Los Angeles Airport off-site location
You may also find many agencies that operate outside the premises of the airport. These companies offer their clients shuttles buses to transport them between the company location and the airport.
Advantages of pre-booking your rented car
Booking a car in advance rather than when you get to the terminal has many benefits. Checking your options is the first part of the said benefits. You have all the time you need, feel at ease and comfortable, and can clearly understand your possibilities when you browse your options at home from the convenience of your own screen. There is no urgency, and you don't need to worry about the luggage you are carrying nor about how exhausted you are from your recent travel. This makes it easier for you to choose the finest vehicle and company for you! Additionally, you are better able to check the prices of all the businesses and carefully compare them to discover the benefits and drawbacks.
When you shop from home, you may take more time to read the terms and conditions before making a purchase, ensuring that you are fully informed of the guidelines you are agreeing to follow.
Most importantly, though, is that pre-booking a car increases the likelihood that you would receive a considerably better rate than you would if you would book one on the spot. Some businesses additionally provide the option of sending your car to meet you at the terminal's arrivals level, saving you the trouble of traveling to their location. Pre-booking seems like a no-brainer at this stage!