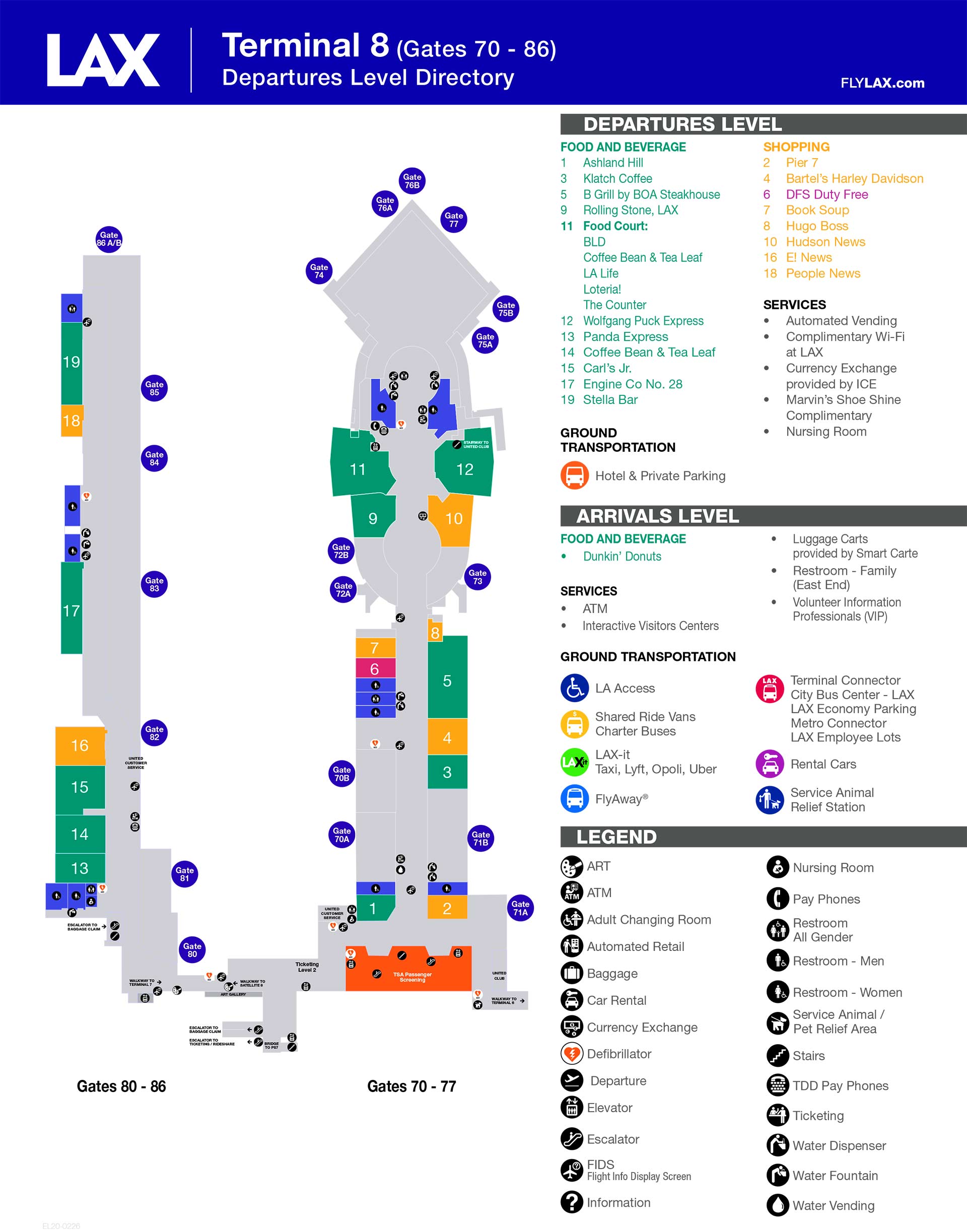 The nine terminals of the LAX are situated either adjacent to one another or across from each other in a U-shaped structure..
This formation allows for easy transportation between the terminals, which can often be done via inter-terminal transportation shuttles. These shuttles are every passenger's reliable mode of traveling between major locations in the airport and are guaranteed to get you to your destination within just a few minutes.
Each one of the terminals operates flights of specific airlines in order to accommodate the more than 80 million passengers that are expected on a yearly basis.
Terminal 8 LAX map
Terminal 8 at the LAX is home to mainly domestic flights. The arriving passengers are welcomed at the Arrivals level where the passport control counters and the baggage claim zone can be found. You can also easily access the ground transportation from this level.
The departures level contains the check-in desks and gates. The gates that can be found at Terminal 8 are from 80 to 88.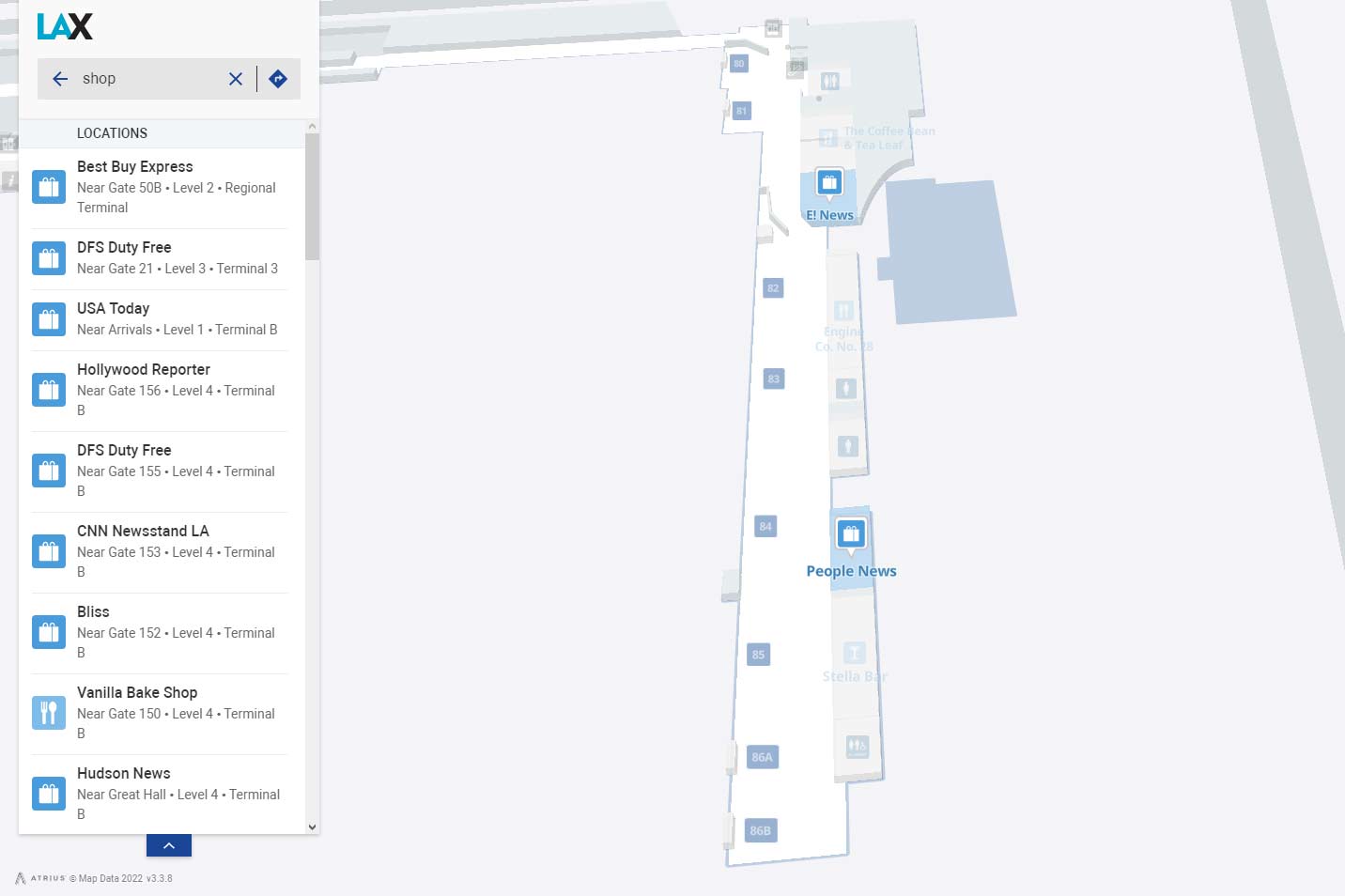 Terminal 8 LAX facilities
Each Terminal at the LAX has its own unique set of amenities and its own set of restaurants and cafes.
The facilities at LAX include vending machines, high-speed Wi-Fi, currency exchange offices, VIP services, ATMs, family restrooms, nursing rooms, shoe-shining facilities, and much more.
In terms of accessibility, the LAX accessibility office is always ready to help!
The restaurants, cafes, and bars that Terminal 8 has include:
Panda Express
The Coffee Bean and Tea Leaf
Carl's Jr.
Engine Co 28
Corona Bar
Many interesting stores can be found at Terminal 8, including some interesting newsstands like:
People News
E! News
Lounges found in Terminal 8 LAX
There are no lounges at Terminal 8 LAX. However, you can purchase a pass to any of the available lounges at the LAX and hop on the inter-terminal transportation shuttles and be at the terminal you want within mere minutes.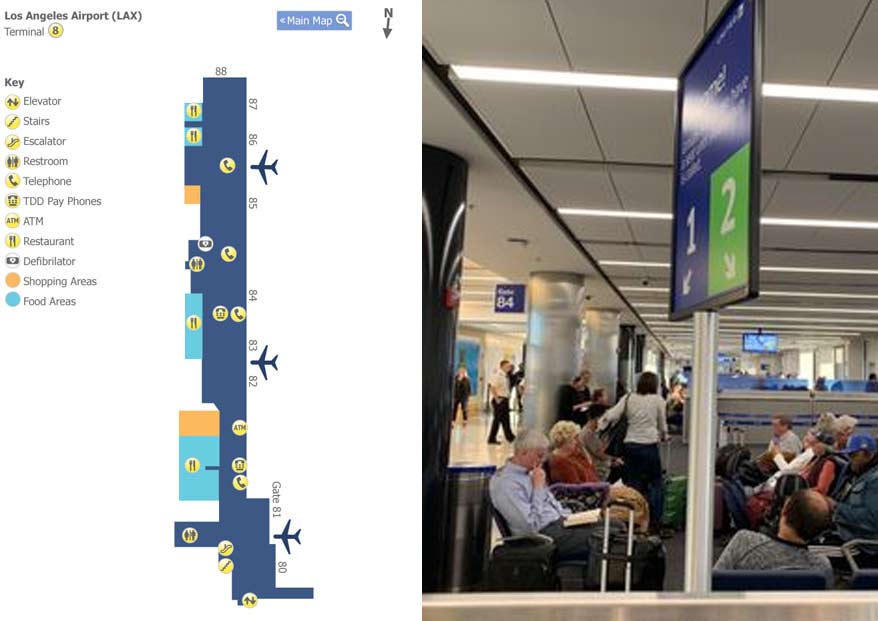 Airlines at Terminal 8 LAX
Terminal 8 operates in a similar fashion to Terminal 7, especially when it comes to the airlines. The main airlines that operate their flights at these terminals are United Airlines, United Express, and occasionally Great Lakes and Aer Lingus.
Where is Terminal 8 at LAX?
To understand exactly where Terminal 8 is located at the airport, then check out this map for a simplified overview of the layout of the entirety of the LAX. That way, you can better understand the locations of all the terminals and their gates.
If you are more interested in checking out the LAX Terminal 8 map.