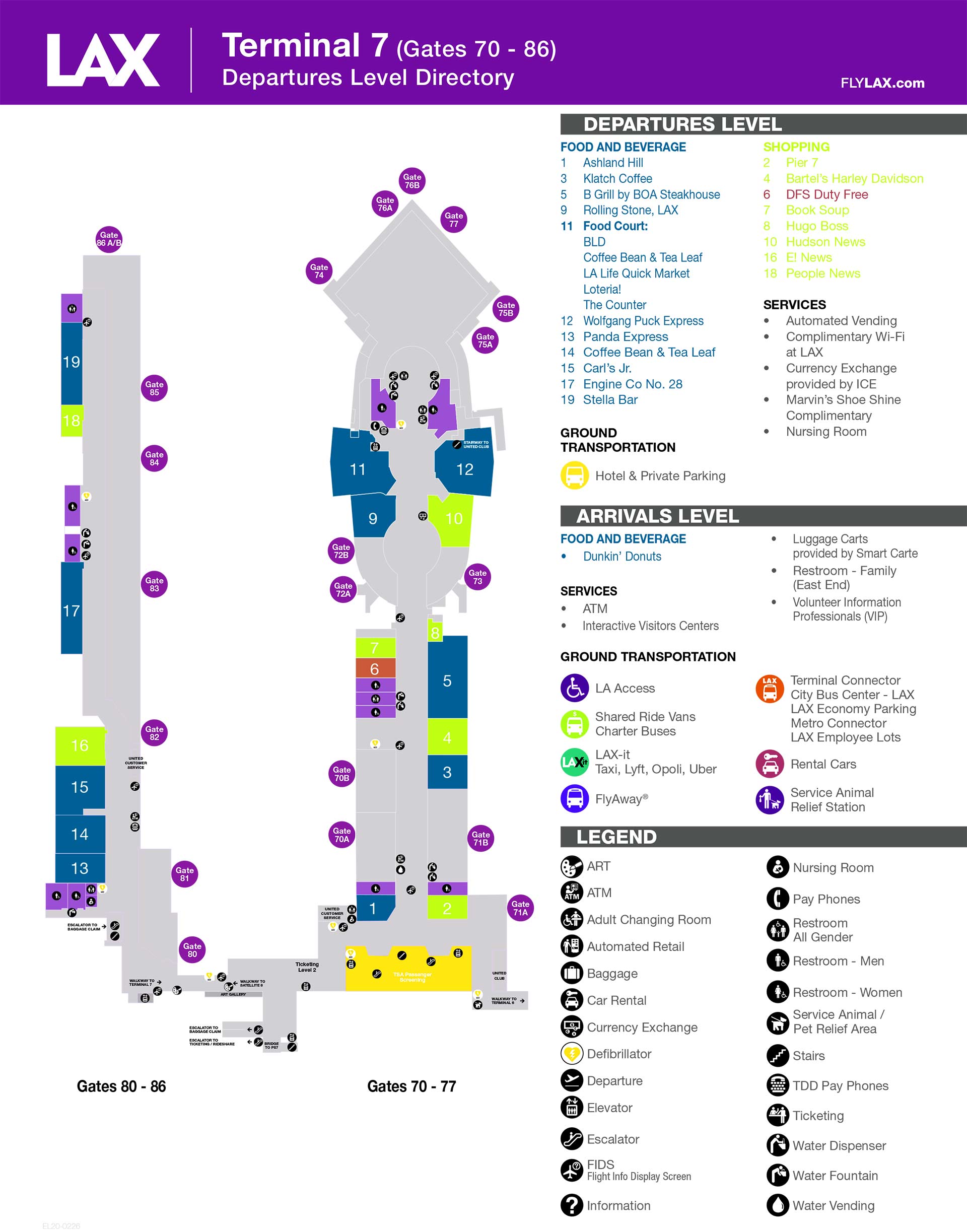 The LAX has nine terminals that for a U-shaped structure that is meant to connect the terminals together. Each terminal serves specific airlines and operates certain flights.
LAX Terminal 7 map
The LAX Terminal 7 houses both international and domestic flights.
On the arrivals level, passengers are greeted with the passport control area and the baggage claim. This level also has access to the ground transportation where you can pick your mode of transportation to your next destination.
On the departures level, passengers will find their designated check-in desks and gates. The gates that are expected to be found at Terminal 7 are from 70 to 77.
LAX Terminal 7 facilities
The terminals at LAX don't just have check-in desks, passport controls, and the like. They are actually quite lively and offer a host of options for entertainment and for comfort. For those needing additional help with accessibility, the accessibility office will be glad to assist. You can also look around for the accessible bathrooms, wheelchair rental zones, the ramps for the wheelchairs, and so much more! In addition, nursing rooms and bathrooms can also be found at Terminal 7. For entertainment purposes, Terminal 7 offers a spa service, shoe-shining services, high-speed Wi-Fi, vending machines, and so much more!
If you're looking for a bite at the terminal, then take a sneak peek at some of the restaurants and cafes that you might encounter:
B Grill by Boa Steakhouse
Ashland Hill
The Habit Burger Grill
Wolfgang Puck Express
BLD
The Counter
The Coffee Bean and Tea Leaf
If you're looking to do some last minute shopping instead, here are some of your options:
Pier No. 7 Market
Hudson Group
Hudson News
Furla Corner
Lounges found in LAX Terminal 7
The options for entertainment and relaxation stretch even beyond the usual restaurants and cafes as Terminal 7 offers two different lounges as well!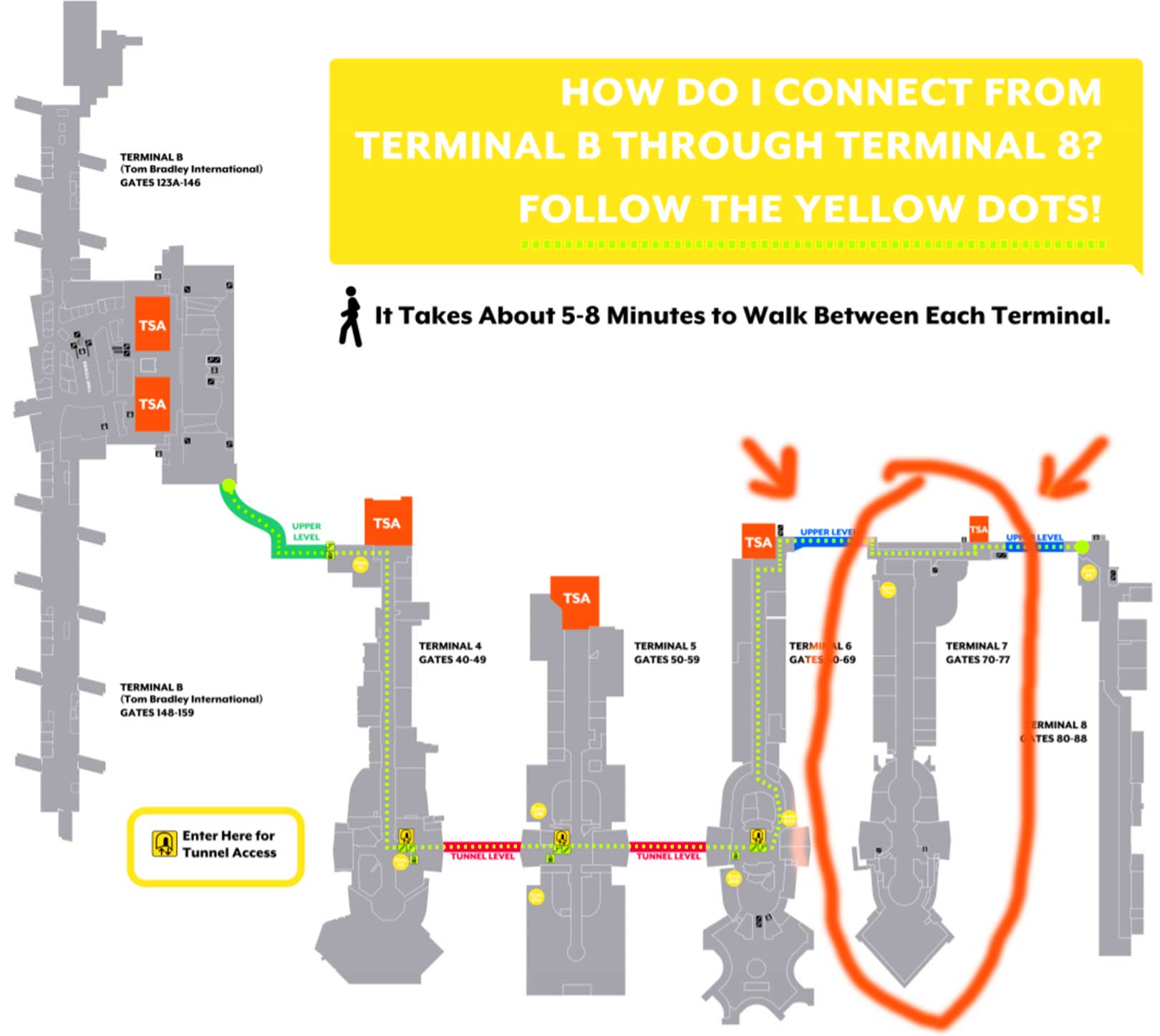 The first is the United Airlines Polaris lounge which offers its exclusive guests a luxurious buffet, complementary drinks and cocktails, prepackaged snacks to take on board your upcoming flight, working stations to get some work done, and even showers so you can freshen up!
The second is the United Airlines United Club which offers its guests the choice to book a conference room, offers individual work stations, snacks, and also relaxation zones that are equipped with magazines, the latest newspapers, TVs, and cozy couches. This lounge can be found at gate 71A, and it operates from 5:45 am till 6:30 pm every day.
Airlines at LAX Terminal 7
There is a reason why this terminal is deemed as the LAX United Terminal 7. The reason being is that it primarily serves United Airlines, which has its hub at this terminal, and United Express. Occasionally, Great Lakes Airlines may also operate from this terminal.
You can contact United Airlines and United Express at the LAX at +1 800 241 6522.
LAX Airport Terminal 7 map
For a simplified map of the entire LAX Airport
For the LAX Airport Terminal 7 map