The LAX contains nine different terminals, each serving a special purpose. And as this airport is a hub for more than one airline, the distribution of terminals ensures that each airline gets its fair share of the pie.
The terminals are labeled from one to eight, and the ninth is labeled as the Tom Bradley International Terminal.
LAX Terminal 4 map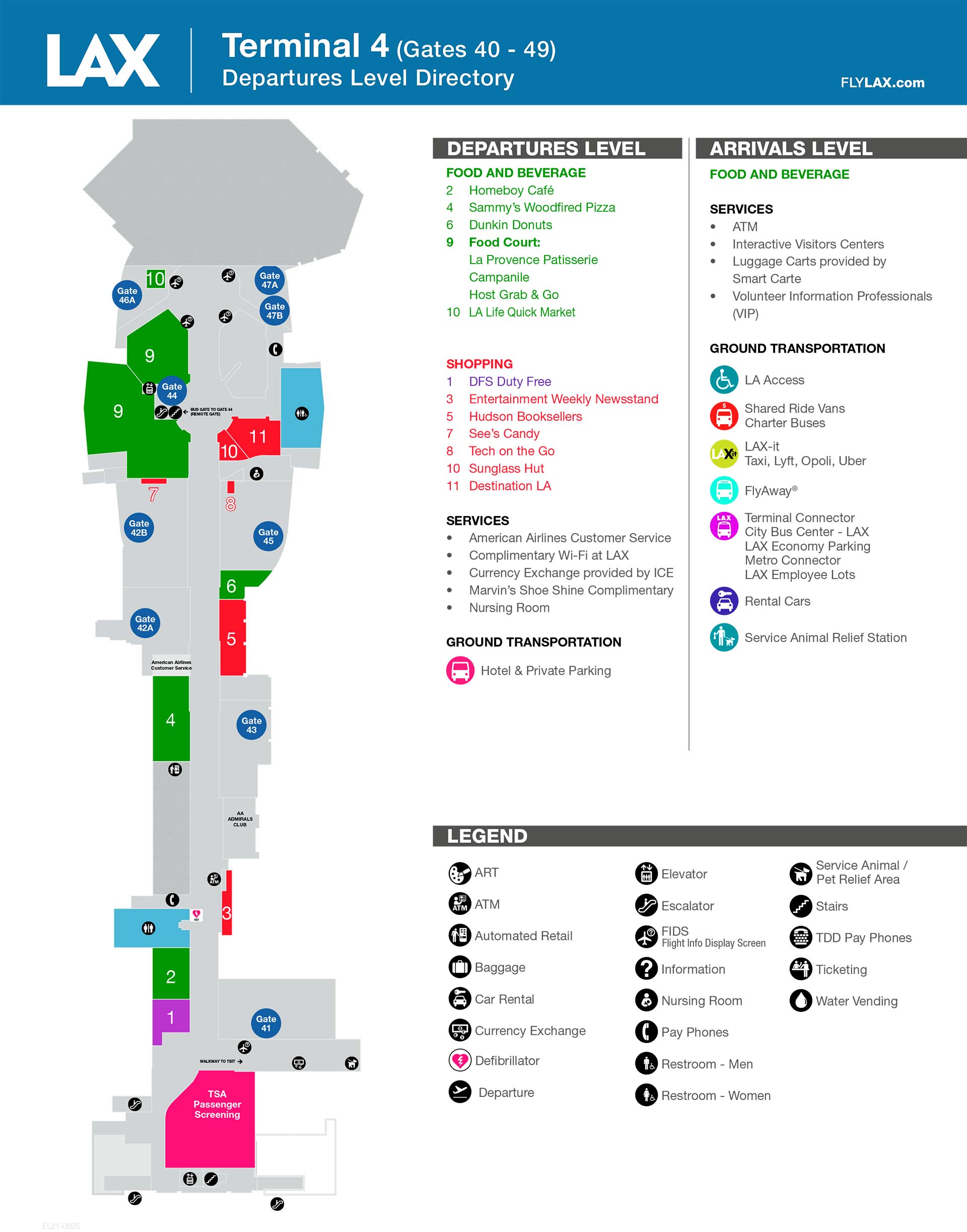 Click here to get a better visual of the layout of the LAX Terminal. For the map of the LAX Terminal 4
The nine LAX terminals were built in a U shape for better connectivity and management. There are terminals 1, 2, and 3 on one side, while terminals 4 through 8 are located on the other side.
The arrivals level of Terminal 4 welcomes both local and foreign arrivals, while the departures level is where domestic flights depart. Tom Bradley International Terminal serves as the primary departure point for international aircrafts.
On the arrivals level is where you will find the LAX Terminal 4 baggage claim.
Gates 40 to 49 are the ones that are to be found in Terminal 4.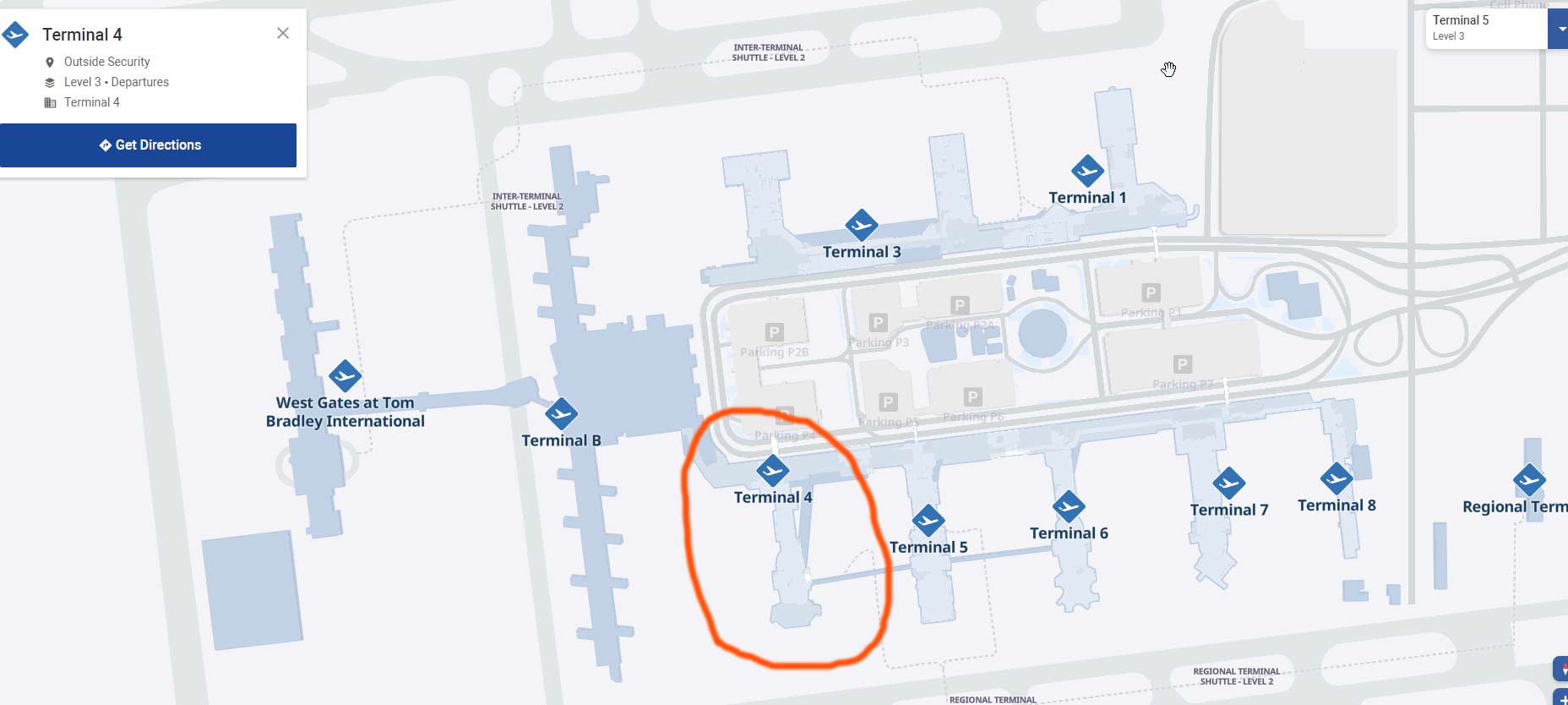 LAX Terminal 4 facilities
Every terminal at the LAX has its own unique sets of restaurants, cafes, bars, and stores. In terms of amenities, many of them do not differ much between terminals.
The food options at Terminal 4 vary widely, and they include:
Homeboy
Cole's
Food and Bounty
Peet's Coffee
Brioche Doree
Sammy's Pizza and Grill
Campanile
Leo's Xpress
Burger Bar
Shops and stores vary equally as much, and they include:
The Larder
Entertainment Weekly News
Hollywood Style
Many more amenities can be utilized at Terminal 4 such as the family bathrooms, nursing rooms, the currency exchange offices, the limitless, high-speed Wi-Fi, and much more! Don't forget to check out the American Airlines customer service office for all your inquiries as well.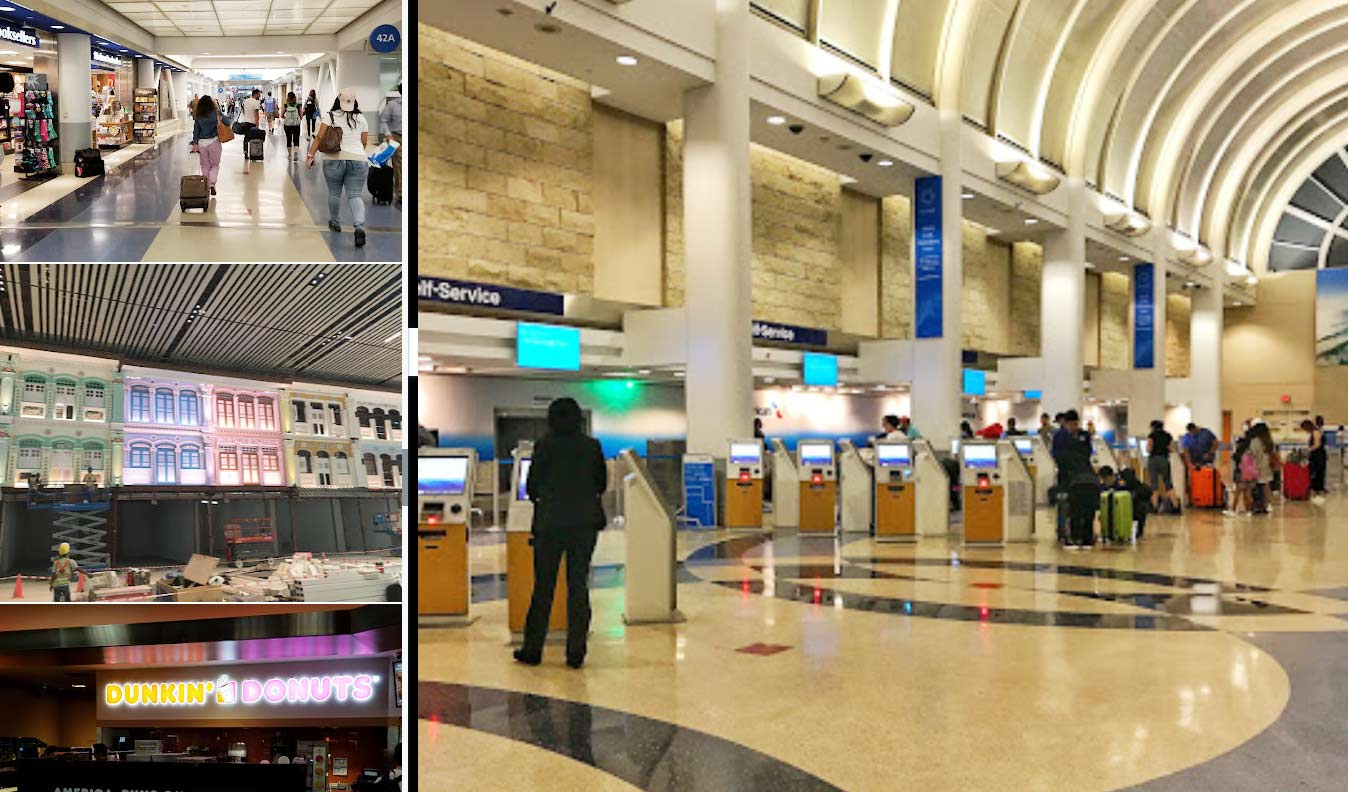 Los Angeles Terminal 4 lounges
As Terminal 4 is the hub for American Airlines, the lounges found at the terminal exclusively center around this airline
The American Airlines Flagship lounge and the American Airlines Flagship First Dining contain premium food options in their buffets, as well as snacks, desserts, and drinks. The former lounge also contains shower facilities and resting zones equipped with TVs.
The American Airlines Admirals Club contains a children's play zone, working stations, and many more. The lounge opens its doors every day from 4:30 am till 1:00 am.
Airlines 
If you're wondering what terminal is American Airlines at LAX? Then your answer is right here – Terminal 4. In fact, this terminal serves as the exclusive hub for American Airlines.
However, sometimes the LAX American Airlines Terminal 4 operates flights from different airlines, such as American Eagle (which is actually a branch of American Airlines), and the Australian Qantas Airways.