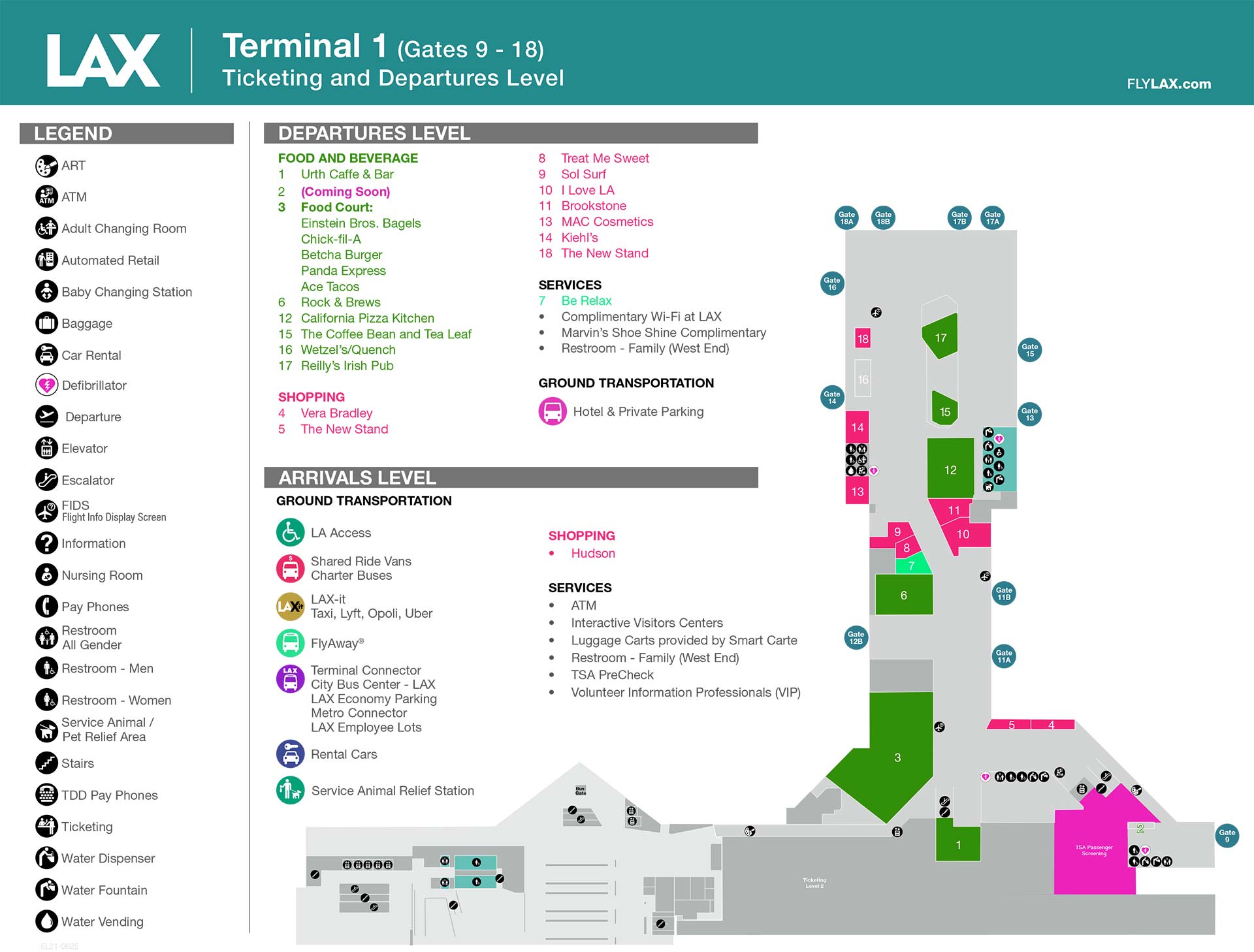 The LAX is known for its sheer size and great importance. And with such descriptions come great responsibilities! This manifests in the incredible number of visitors who step foot in the airport on a yearly and even daily basis!
For many years before the pandemic, the numbers of visitors were reaching nearly 88 million in total (per year)! These numbers explain the need for the higher than average amount of terminals.
There are nine terminals in total, labeled one through eight, with the ninth better known as the international terminal. More formally, it is known as the Tom Bradley International Terminal, or just TBIT.
Terminal 1 at LAX
The terminals are all positioned in a U-shaped pattern. Terminal 1 is the first one to encounter. It sits next to terminals 2 and 3, in what is known as the northern side.
This terminal welcomes both domestic and international flights from the airlines it serves. However, when it comes to departures, only domestic flights are served.
In terms of the gates, you may find gates 9 all the way to 18B at Terminal 1.
Always remember that movement between the terminals is simple and easy. Simply hop on a shuttle service and be at the terminal of your choice. This is often reassuring for passengers who find that their check-in desks or even gates are at a terminal that is different from the one they had originally expected.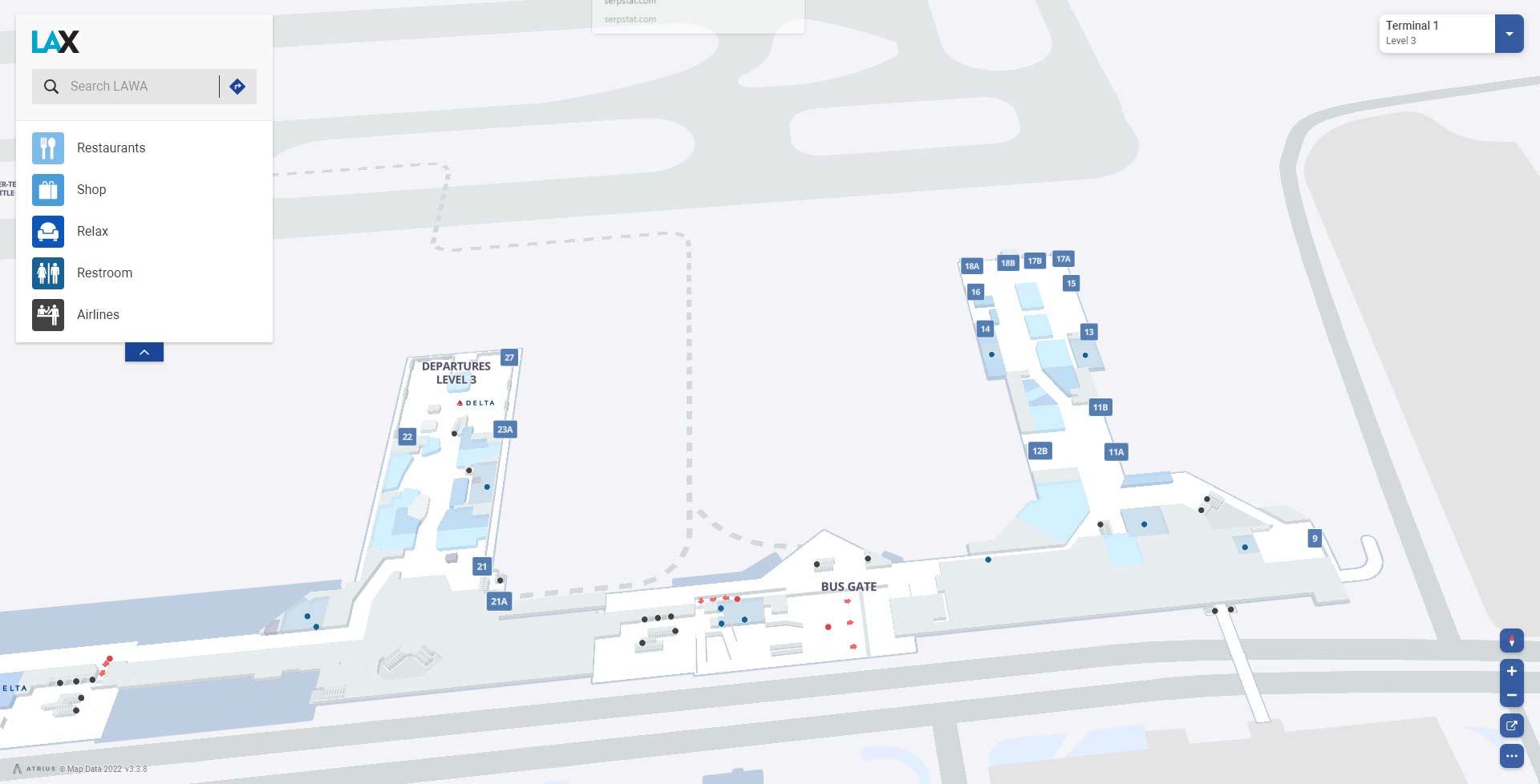 LAX Terminal 1 facilities
The facilities at the LAX truly make it one of a kind. What is even more special is that each terminal houses its own unique facilities.
When it comes to food options, for instance, you can find the following cafes, restaurants, and pubs at Terminal 1:
Cassell's Hamburgers
Urth Caffe and Bar
Deli and Co
California Pizza Kitchen
The Coffee Bean
Pei Wei
Rock and Brews
If you feel like shopping before or after you satisfy your taste buds, then check out one of the following stores at Terminal 1:
Relax Me
Brookstore
Sol Surf
See's Candies
In terms of lounges, there are no lounges at Terminal 1. So if you have purchased a pass, use the inter-terminal shuttle service to get to your preferred terminal.
Other facilities that make your journey easier include the nursing rooms, the family bathrooms, the ATMs, the currency exchange offices, and many more.
Airlines at Terminal 1 Los Angeles Airport
Each one of the nine terminals serves very specific purposes. In general, these purposes manifest in the type of flights they serve.
When it comes to Terminal 1, the airlines that operate at this airport at Southwest Airlines and US Airways.
So unless otherwise indicated, expect your flights with these airlines to depart from and arrive at this terminal.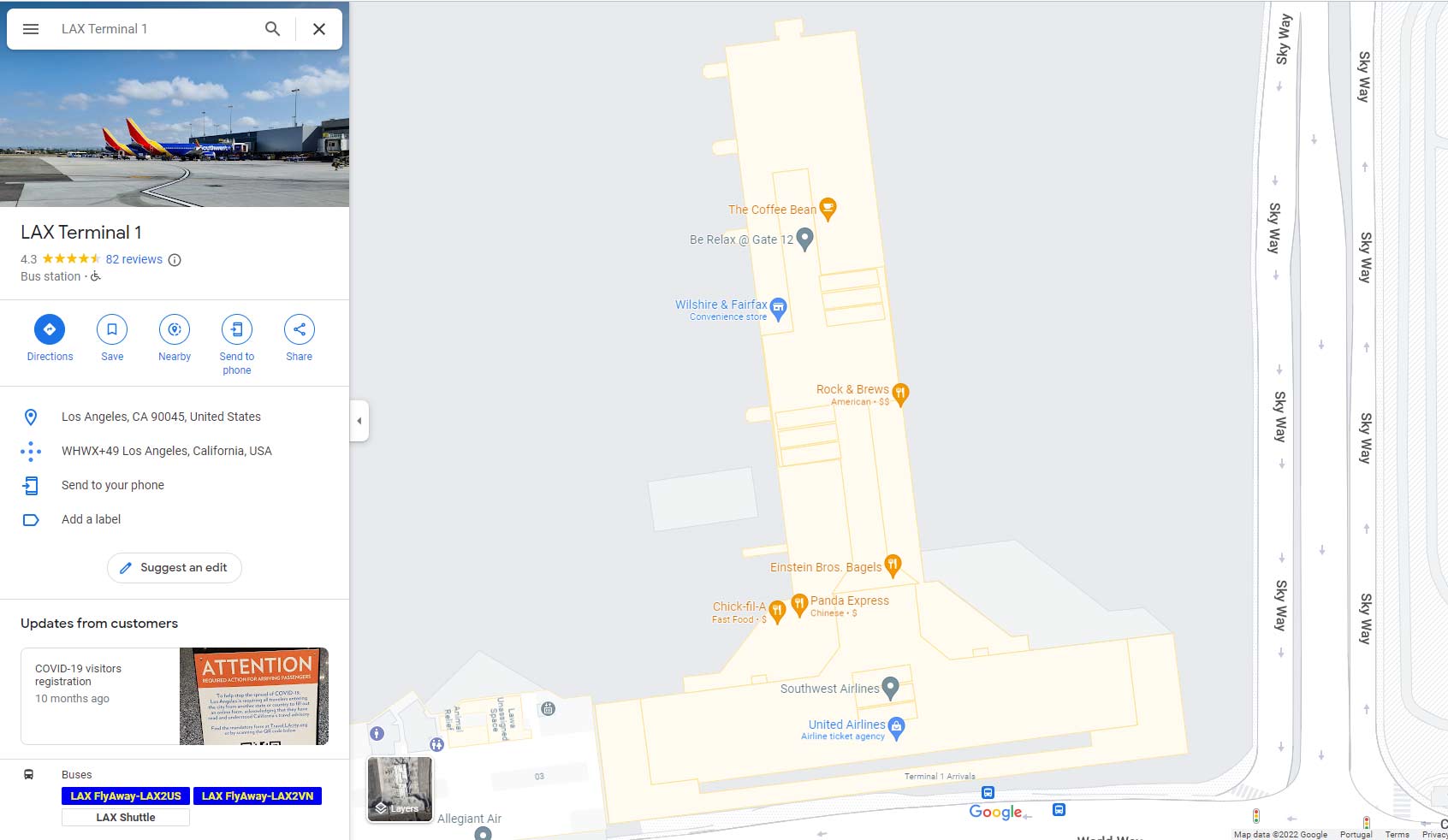 Terminal 1 map LAX
You may still be a little confused about the layout of not only the entire airport, but also Terminal 1 as well.
For this reason, visual aid comes to the rescue! For a much clearer idea of how the terminals are located in connection to one another at the airport, check out this map here.
For a better view of Terminal 1 specifically, feel free to check out the Terminal 1 map LAX here.