There are nine terminals at the LAX. Each of these terminals houses different airlines. The layout is made in such a way so as to alleviate the traffic of passengers in each zone. This is most definitely needed since the LAX welcomes between 80 and 88 million visitors each year! This colossal number of people make it one of the busiest airports not only locally, but also around the world!
You can travel from one terminal to the other through the available inter-terminal transportation that can be found at every major location in the airport. It works efficiently and quickly, and it is a reliable source of transportation for every visitor of the LAX.
LAX Terminal 6 map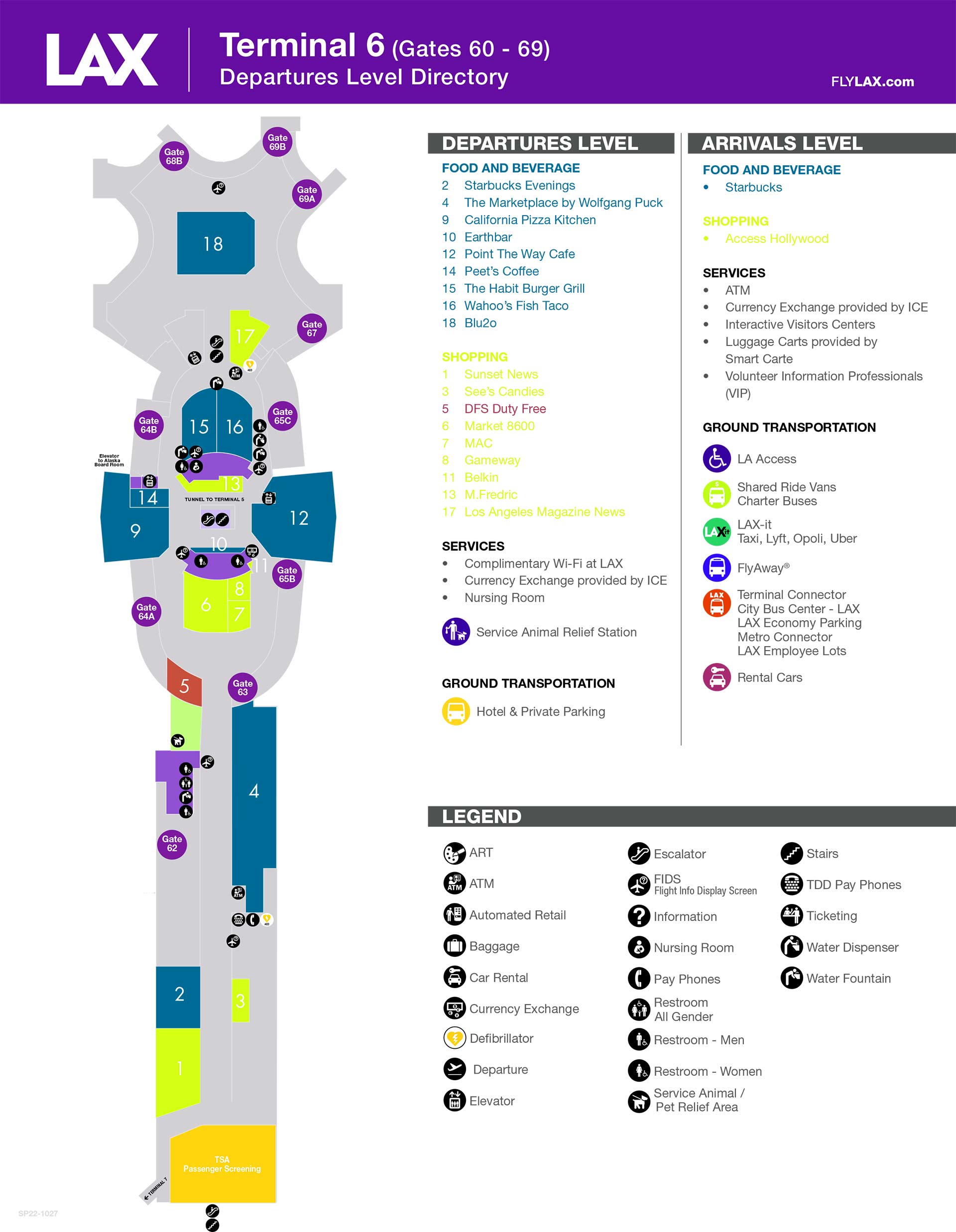 If you would like to better understand the outline of the LAX and all of its terminals, then check out this map
The LAX Terminal 6 has two main levels – one for the arriving passengers, and the other for the departing ones.
Upon arrival, the passengers can find passport control counters and then baggage claim, before heading to ground transportation zone.
For those departing from this terminal, they can encounter their check-in desks and gates at the departures level.
The LAX Airport Terminal 6 gates are 60 to 69.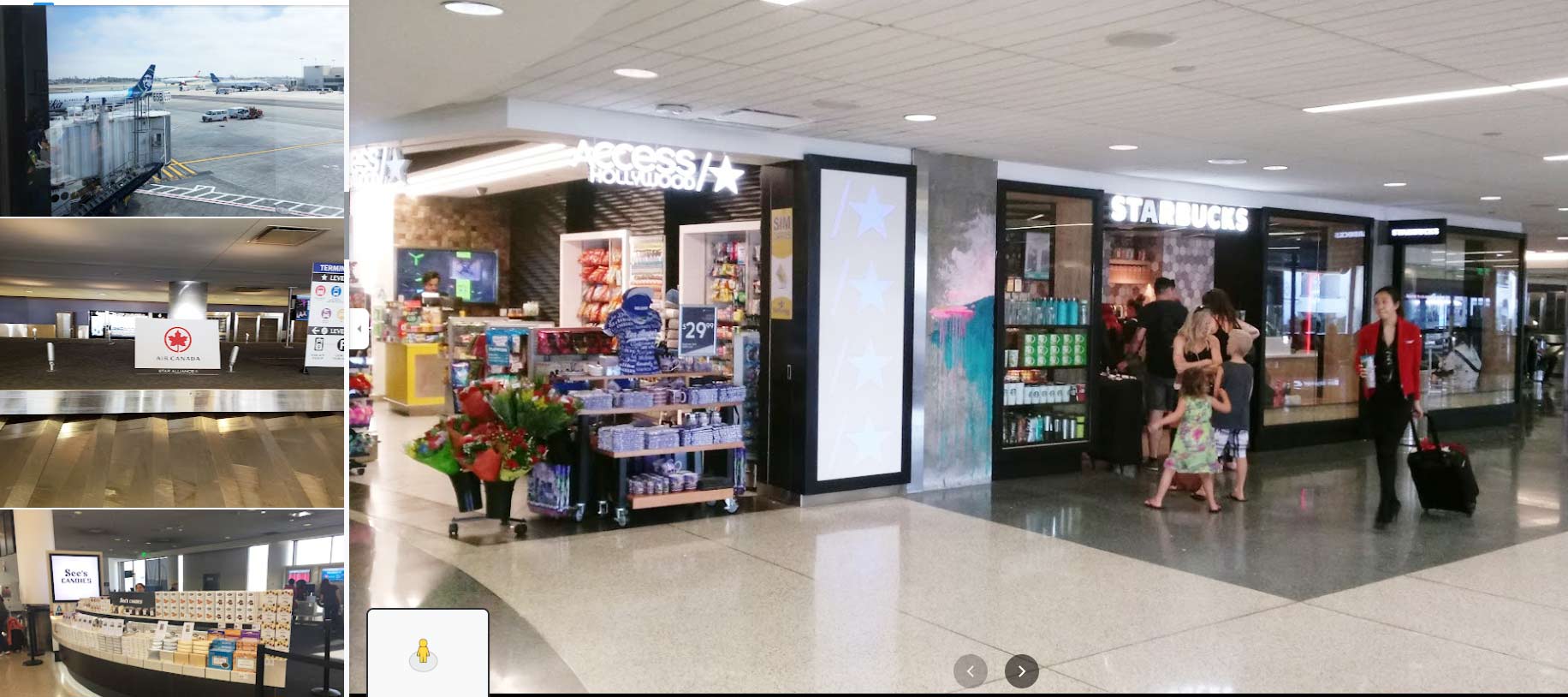 LAX Airport Terminal 6 facilities
Many of the services found at the LAX are centered around accessibility, such as the wheelchair rentals and the available ramps, and even accessible toilets, amongst others. There are also other facilities that just about everyone can make use of. In regards to Terminal 6, you can find available high-speed Wi-Fi, the ATMs, the Gameway gaming station, the VIP services, the nursing rooms, and the outdoor smoking zones.
The restaurants, cafes, and bars that you can find at Terminal 6 include:
Wpizza
Earthbar
Wahoo's Fish Taco
Point the Way Café
Blu2O
California Pizza Kitchen
As for the shops, you would be delighted to see the following examples that are just a small portion of the selection of stores at Terminal 6:
Sunset News
Jetway Express
Belkin
Hudson Booksellers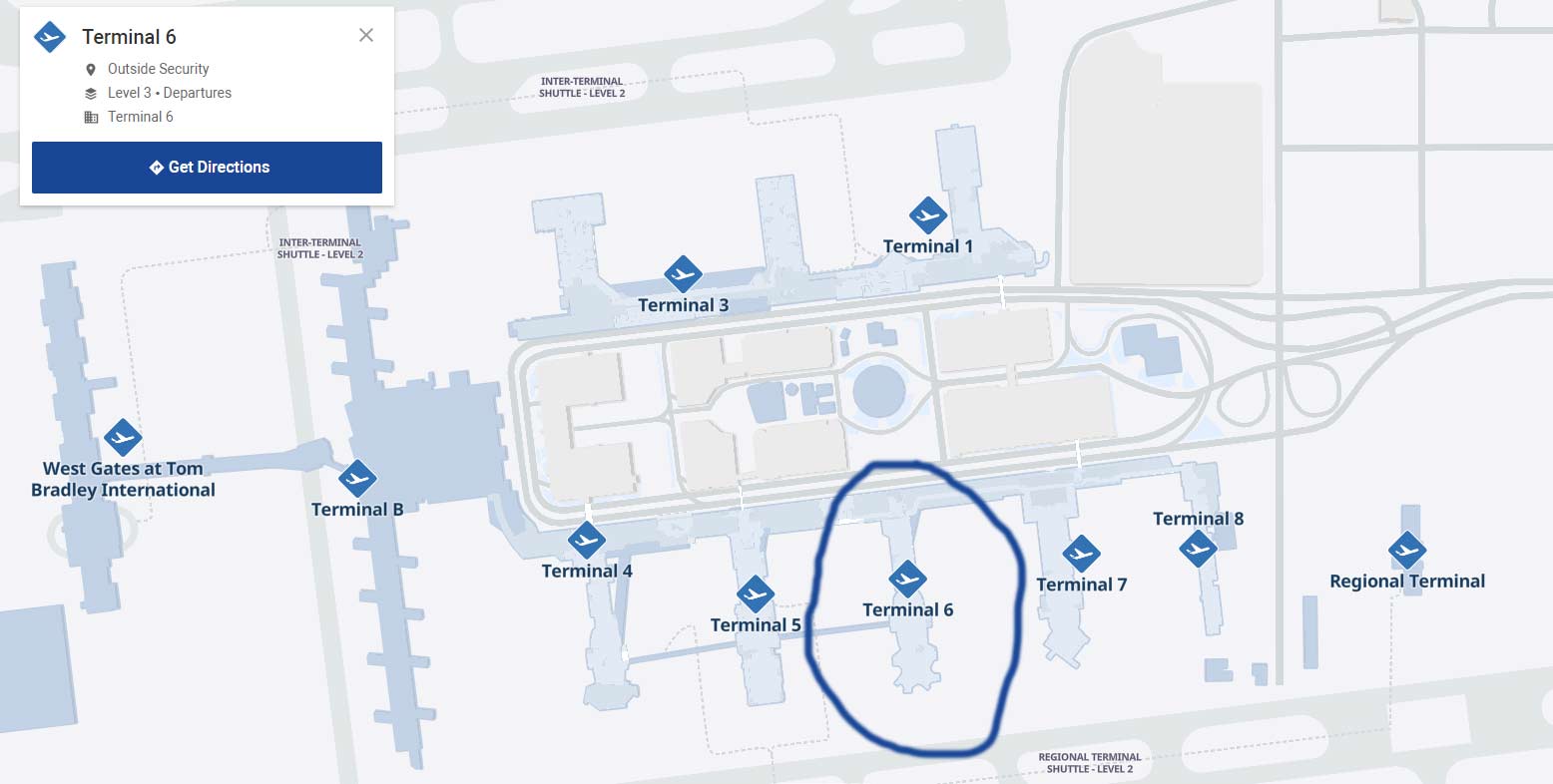 Lounges found in Terminal 6 at LAX
The LAX has numerous lounges all across its terminals. At Terminal 6 specifically, you can find two lounges. The first is the Air Canada Maple Leaf lounge, which offers its exclusive guests many prepackaged snacks and complementary drinks, working stations, and even a relaxation zone equipped with newspapers, magazines, and TVs. The second lounge is the Alaska Airlines Lounge, which includes all of the amenities mentioned in the Maple Leaf Lounge in addition to a children's play zone. This lounge opens its doors from 5:00 am till 8:00 pm every day.
Airlines at Terminal 6 at LAX
Many airlines operate at this important terminal, and they range from home-grown airlines to more international ones.
The airline companies that operate at Terminal 6 of the LAX are:
Alaska Airlines
Allegiant Air
Copa (dep only) Airlines
Frontier
United Airlines