The LAX is a large establishment that is a hub for several major airlines. And with that, the airport handles nearly 80 to 88 million passengers every single year. Even during the COVID-19 pandemic, and the imposed flight ban, the LAX still handled nearly 29 million passengers in 2020!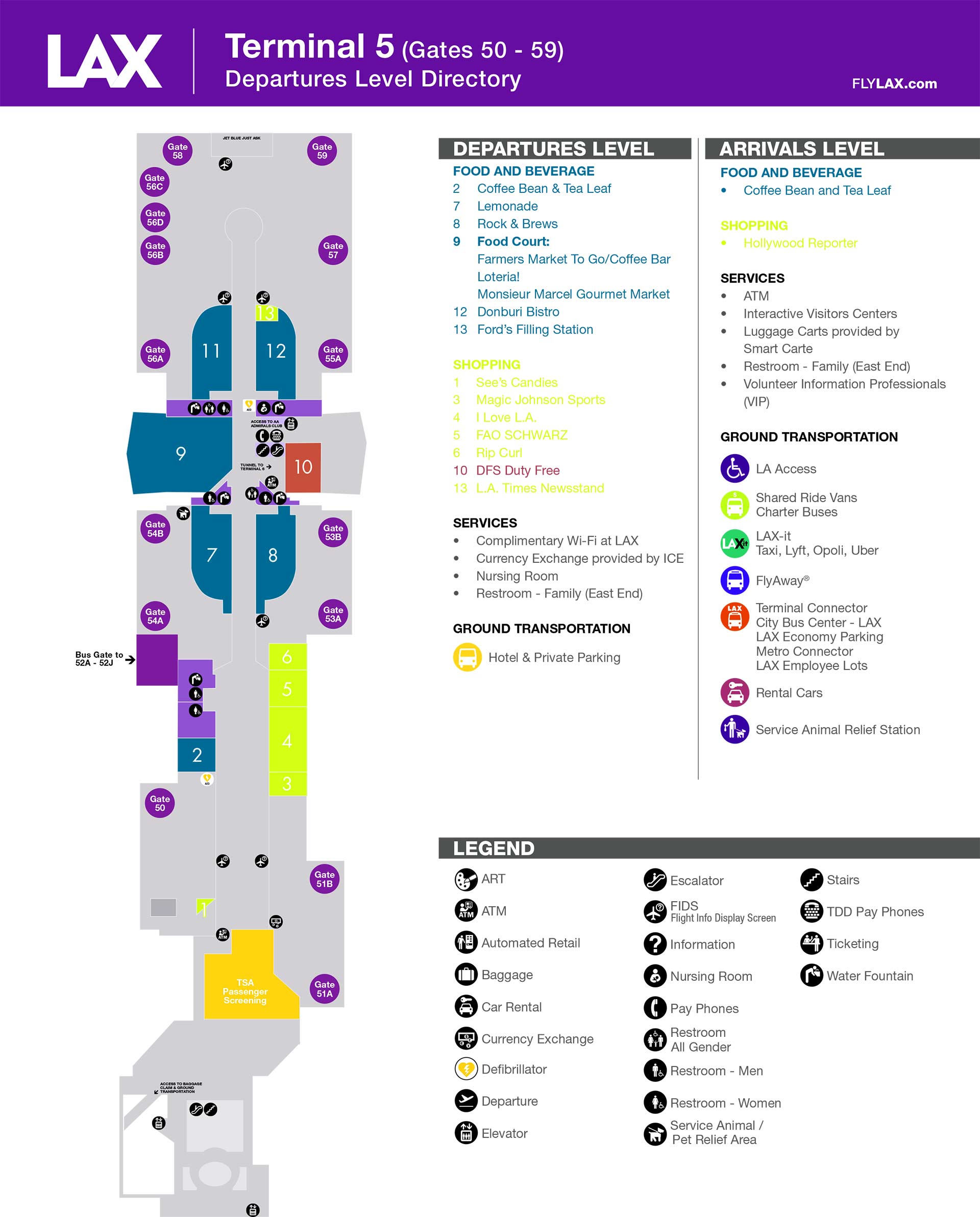 With that many visitors expected regardless of the global situation, it makes sense that the LAX has nine different terminals! It may be more terminals than what is usually expected, but the distribution is necessary as it aids in alleviating the traffic in general.
Furthermore, transportation between terminals has been made simple and accessible thanks to the inter-terminal transportation shuttles.
LAX map Terminal 5
If you're wondering exactly where is Terminal 5 at LAX, then it might help to gain access to a visual map that can outline the structures for you. To check out a simplified map of the LAX.
Terminal 5 is situated between terminal 4 and 6. It is made up of two main levels – the arrivals and the departures levels.
The arriving passengers can find the passport control and the baggage claim on the arrivals level, with the ground transportation services just a short walk away.
The LAX departure Terminal 5 is where passengers can find the check-in desks and their gates. The gates found at Terminal 5 are from 50 to 59.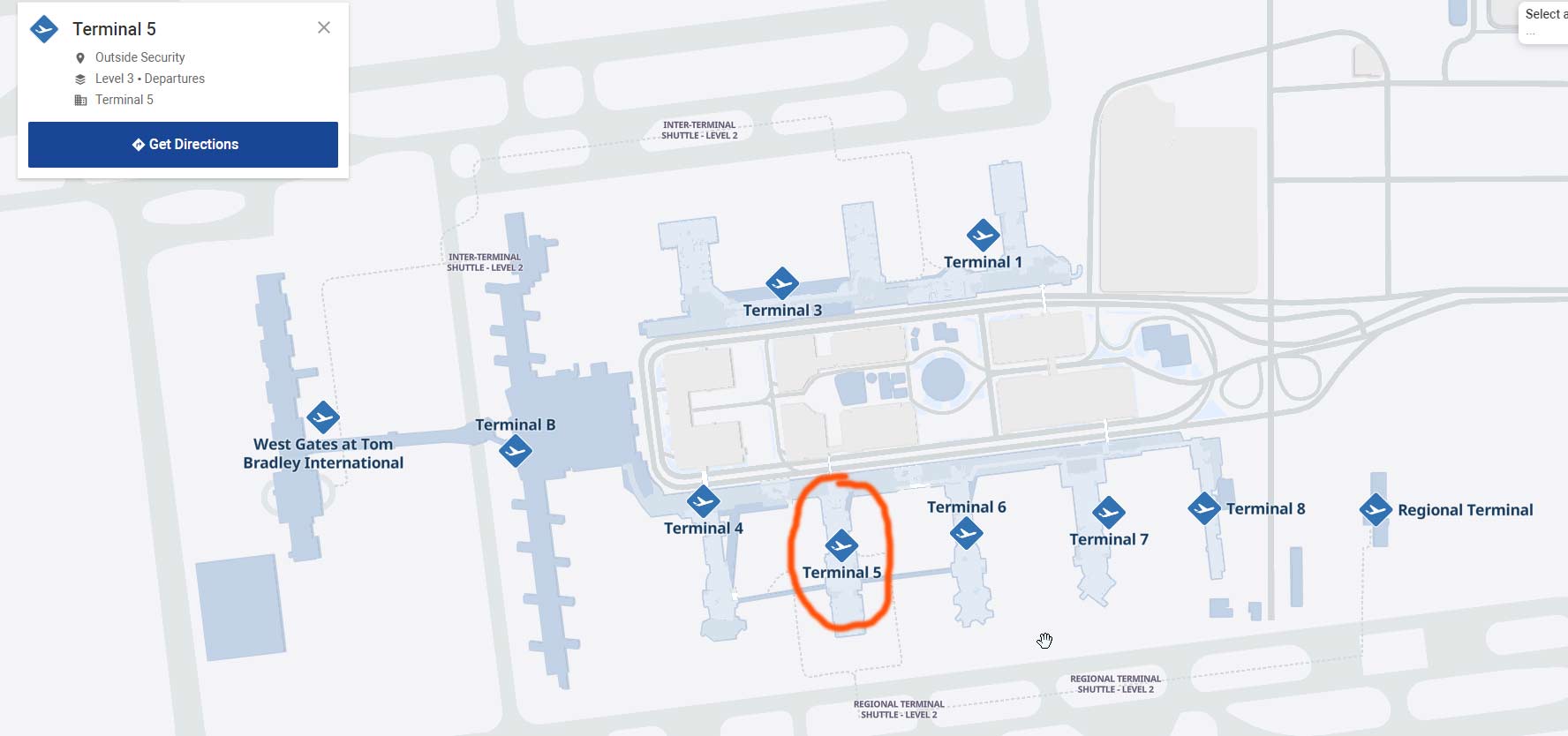 Terminal 5 LAX facilities
The LAX has some great facilities to offer to its guests. And these facilities range in usage from purely leisure purposes like the observation decks, to convenient services like the complimentary high-speed Wi-Fi, and the wheelchair rental services.
In terms of the restaurants and cafes that you might encounter at Terminal 5, here are a few examples:
Lemonade
The Coffee Bean
Ford's Filling Station
Rock and Brews
Loteria Grill
Donburi Bistro
Farmers Market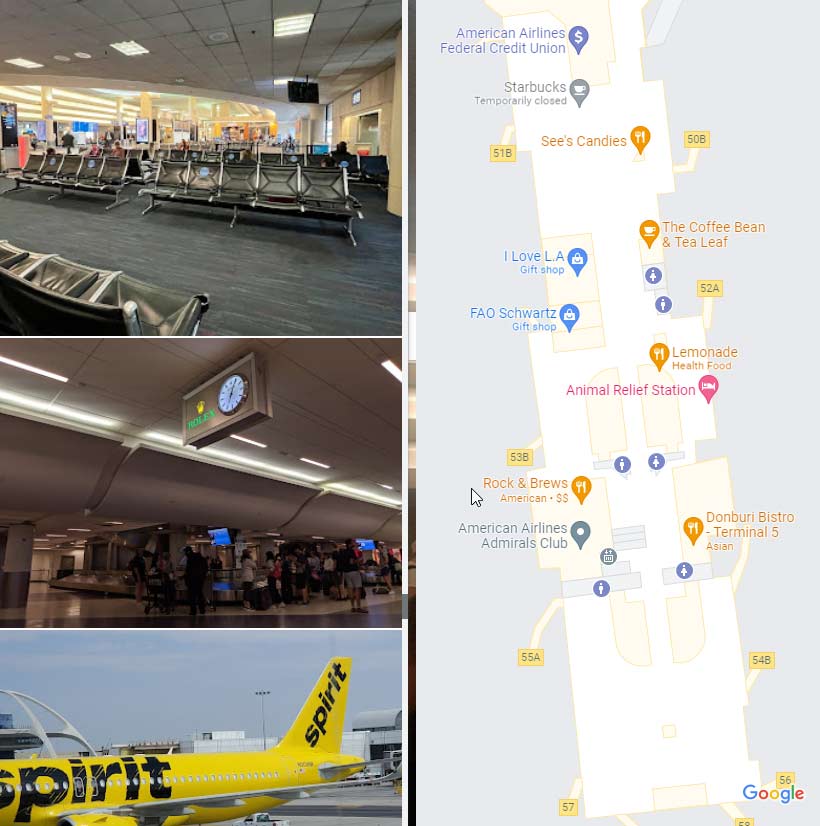 As for the stores, you may find the following shops at Terminal 5:
I Love L.A
Mattel Experience
See's Candies
Magic Johnson Sports
Rip Curl
As discussed earlier, there are several other services that the LAX offers. At Terminal 5 in particular, you can find nursing stations, family bathrooms, accessible bathrooms, ramps, spas, VIP services, and more!
Terminal 5 LAX lounges
The lounge that can be found at Terminal 5 is the American Airlines Admirals Club lounge. This lounge offers its exclusive customers an ongoing buffet with premium food, some snacks, desserts, and complementary drinks at the bar.
If that's not enough to convince you to purchase a day pass to this lounge, then perhaps the resting zone with TV and the available shower facilities might. Who wouldn't want to have great food and a hot shower before their flight!
Airlines 
The airlines that are handled at this terminal are not many. Mostly, the departing flights are that of Delta Air Lines. For the arriving flights, both Delta and Virgin Australia may land at Terminal 5.